Welcome to the Webcomic Wiki!
The Webcomic Wiki aims to become a comprehensive database of free online comics.
Looking for help? Want to make a suggestion? Have a question? See the wiki's discussions.
Use the talk page for discussing the main page only. If you are new to wikis, check out the Help Pages to get started! You need an account to edit, so please sign up to create an account, or log in if you already have one.
We currently have 145 comics listed. If you can't find the comic you are looking for, create the comic's page by entering its name into the box below

| | | |
| --- | --- | --- |
| Essential Articles | Browse Comics | Webcomic Resources |
Stakeout
By: 0becomingX
Rating: Mature
Launched: 2018
Genres: Romance, Slice of Life
Anna is a freshman in college, who finds out she's going to the same school as her high school crush. Should high school crushes be left in the past or can this be a real romance?
Cucumber Quest
By: Gigi D.G.
Rating: All Ages
Launched: 2011
Genres: Fantasy, Anthro, Action & Adventure, Comedy
Cucumber, an aspiring mage, receives a letter calling him to confront the evil Queen Cordelia, who intends to summon the ancient evil that is the Nightmare Knight. Cucumber reluctantly goes at the urging of his sister, Almond, but is unable to stop her. Now, Cucumber must fulfill his destiny by defeating the Nightmare Knight's Disaster Masters and then the Knight himself.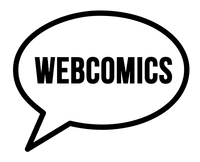 News
11/01/20 - Webcomic host Smack Jeeves will be closing at the end of the year on December 31st 2020. If you made any comics on the site that you would like to save, an option to download a zip of your archives has been added to the Comic Management section.
1/1/2020 - The form used to create new Webcomic articles is broken. The form heavily relies on the out of date Semantic MediaWiki extension to function and should be fixed after the wiki is moved to the Unified Community Platform. Until then, please refrain from creating any webcomic articles. Apologies for the inconvenience.
DISCLAIMER
The Webcomic Wiki is intended purely for non-commercial use. The use of the images featured on this website should fall under the United States' "fair use" copyright law, and all copyright holders of an image or images should be properly attributed on the image description page.
If you are the copyright holder of any of images featured on this website and you feel that its use here does not fall under "fair use" or if you wish to have an image removed please contact an administrator. If an administrator is not available, please contact Community Support.
Community content is available under
CC-BY-SA
unless otherwise noted.